From the 1st of November 2019 (Opening at 7pm), the Direktorenhaus in Berlin shows a collection of map-like meditations surveying unfamiliar forms of urbanism; depictions of infinite expanses playing upon themes paradoxical and perpetual. At the root of the drawings are a familiar family of symbols — stars, spirals, cubes and circles— referencing cartographical, cosmological  literary and musical inspirations. The compositions are  formed from clusters of varying architectural histories, orchestrated in a mosaic fashion to create new and unchartered perspectives.
Towers and low-rise buildings merge together to form familiar yet unimaginably intricate cityscapes with complex spatial arrangements, and, in some cases, in human form. This brand of "abstract urbanism" introduces an imaginative perspective on the urban context and its relation to those who inhabit it.
A range of geometries are harnessed to create the drawings— all the while a very high level of of detail is maintained that helps furnish a level of intimacy within the work. From harsh, angular arrangements, to soft, billowing curves, each piece of art conveys a sense of place and scale.
About Benjamin Sack
Benjamin (Ben) Sack is an American artist, known for his pen and ink drawings of imaginary, complex cityscapes. He went to Virginia Commonwealth University and earned his BFA in 2011. Benjamin Sack lives and works in Leesburg, Virginia, a town just outside of Washington D.C. He graduated from Virginia Commonwealth University in 2011 with a degree in Fine Art.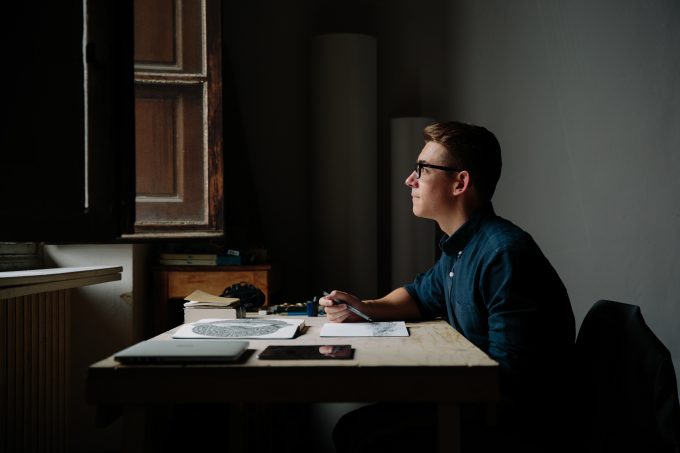 Benjamin Sack is an American artist living and working in Leesburg, Virginia.
Sack's work explores architecture as a flexible medium capable of expressing the unique space between realism and abstraction; where interpretation and our ability to create meaning is in flux. Within this space, Sack, furnished with pen and ink, encapsulates both the infinite and infinitesimal. His work invites the eye to explore drawings of the "big picture," to gaze into a kaleidoscope of histories and to look further into the elemental world of lines and dots.